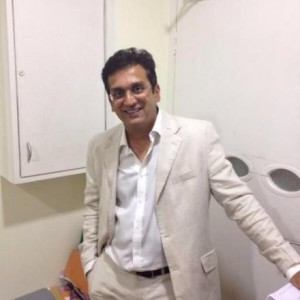 While we all have our ways to keep fit like walking, jogging, gyming, swimming, diet control and many such other methods we all still relate to the old school method of yoga. It's common for all of us to be able to link to this technique. Though the most traditional method it the most widely used method as well.
Dr Mahesh Patwardhan Gynecologist by profession is himself particular about his fitness regime and promotes physical fitness to be one of prime importance in one's life. Yoga is one such trustworthy technique.
Yoga has its many advantages like cardio and respiratory regulation, weight reduction, increased flexibility and many more. Stress buster-In our era of extreme stressed environments both at home and at work, school and sports a few minutes of yoga can help relieve the stress that accumulates in the body and mind.
Energy booster – Low energy levels at the end of the day are a common site in ones living room. Taking time out for family get togethers and discussions is a scene of the weekends. Yoga on a regular basis helps you to stay fit and energetic.
Off late it has been heard that many people have been going for power yoga classes. It's now in fashion to be a part of these upcoming regimes and have healthy discussions about it in social outings. Some fitness establishments promote power yoga as an opportunity to advance beyond the regular yoga classes. This routine is more vigorous than regular yoga and the poses are a bit more complicated.
A famous website has their share of views about traditional yoga. They link traditional yoga with spirituality and power yoga more as a keep fit. Power yoga is mainly aimed at weight reduction, control of cholesterol levels in the body.
Each individual has his set of requirements and hence needs different techniques to solve them. Those not familiar with the fact that yoga has a wide range to offer from heres a peek a boo into the different types of yogas:
Hatha: Slow yoga for beginners.
Vinyasa: Practice that links breathe and movement together in a dance like way.
Iyengar: This type in more into details and precision about poses as well as your body alignments.
Ashtanga: Its orderly , challenging and sequential six poses of yoga for building internal heat.
Bikram: This style consists of 26 poses and 2 breathing exercises.
Hot yoga: It is similar to that of Bikram yoga but the 26 pose sequence is not restricted to.
What's also great about most of the forms of yoga is that they can be practiced at various locations. Specific work out areas aren't a must here. So if your an avid traveller, take a lot of tours for your work, don't have the time to travel and work out, its jus about apt for you.
Yoga is best practiced in areas of silence, calmth and breeze. Gardens, beaches, your own home, community and society halls are common examples.