Latest Searches for Teachers Day 2014
teachers day quotes, teachers day speech, teachers day wishes, teachers day messages, teachers day essay, teachers day poems, teachers day songs, teachers day speech in hindi, happy teachers day wishes, happy teachers day message, happy teachers day quotes, happy teachers day poems, teachers day messages, teachers day quotes, happy teachers day quotes in english, happy teachers day song.
The Teacher's Day is celebrated to honor one of the most respectable professions of teaching and appreciate teachers all over the world. A teacher plays an important role in everyone's life. They help us in molding ourselves to become a good and successful person. Hence, to honor this profession, a day is dedicated to remember all the great teachers the world had and to appreciate the once with us today.
On the eve of Teacher's day, the world celebrates by sharing Teacher's Day Quotes, Teacher's Day Wishes, Teacher's Day Wallpapers and Teacher's Day Stories and show their respect towards their teachers and this profession.
The day is celebrated with a lot of enthusiasm, love and affection. Students show respect to their teachers by offering them flowers, greetings, gifts, etc. And in return, teachers share some of the memorable moments of their career with the students. On the eve of Teacher's Day they inform the students about the importance of education and motivate them to pursue this career.
Each country has their own date on which the Teacher's day is celebrated. However, the World Teacher's Day is celebrated every year on October 5. Following are the counties that celebrate the Teacher's Day on day other than October 5.
HAPPY TEACHERS DAY CELEBRATION
India – 5th September
India celebrates the Teacher's Day every year on September 5 on the birth anniversary of Bharat Ratna Sarvepalli Radhakrishnan. Sarvepalli Radhakrishnan was best and most influential twentieth century scholar, the first Vice President and the second President of the Independent India. Sir Radhakrishnan was awarded numerous awards during his life including the Bharat Ratna, the highest civilian award in India and the honorary membership of the British Royal Order of Merit. He believed that "Teachers should be the best minds in the country", and since 1962 his birthday on September 5 is celebrated as Teacher's Day.
Argentina – 11th September
Argentina celebrates Teacher's Day every year on September 11, the death anniversary of Domingo Faustino Sarmiento to honor the memory and work done by him. Domingo was a writer, statesman, activist and the seventh President of Argentina. He was particularly concerned with educational issues and was also an important influence on the region's literature. He established 800 educational and military institutions and his improvements to the educational system enabled 100,000 children to attend school.
China – 10th September
The People's Republic of China celebrates Teacher's Day on September 10 every year. No specific reason is still available as to why the country celebrates on the decided day. Hence, some people have proposed to change it to September 28 which is believed to be Confucius's birthday. The day is currently also observed as Teacher's Day in Taiwan since 1950s and thus if adopted will make mainland China and Taiwan share the same Teacher's Day from 2014.
Bhutan – 2nd May
Bhutan celebrates Teacher's Day every year on May 2, the birth anniversary of Jigme Dorji Wangchuk, the third King of Bhutan. King Jigme introduced modern education to the country.
Malaysia – 16th May
Malaysia celebrates Teacher's Day on May 16, a day on which The Federal Legislative Council of the Federation of Malaya endorsed the Razak Report, one of the four reports of the Education Committee regarding education in Malaysia.
Panama – 1st December
Panama celebrates December 1 as Teacher's Day in order of Manuel Jose Hurtado who is also known as the Panamanian education due to his promotion of modern education through establishment of the first public schools and teachers' colleges.
May this Teacher's Day you surprise your teachers by wishing them with some amazing quotes, wallpapers and more.
HAPPY TEACHERS DAY QUOTES
"A good teacher can inspire hope, ignite the imagination and instill a love of learning." – Brad Henry
"Education is the key to success in life, and teachers make a lasting impact in the lives of their students." – Solomon Ortiz
"It is the supreme art of the teacher to awaken joy in creative expression and knowledge." – Albert Einstein
"One looks back with appreciation to the brilliant teachers, but with gratitude to those who touched our human feelings. The curriculum is so much necessary raw material, but warmth is the vital element for the growing plant and for the soil of the child." – Carl Jung
"A good teacher, like a good entertainer first must hold his audience's attention, then he can teach his lesson." – John Henrik Clarke
"You have to grow from the inside out. None can teach you, none can make you spiritual. There is no other teacher but your own soul." – Swami Vivekananda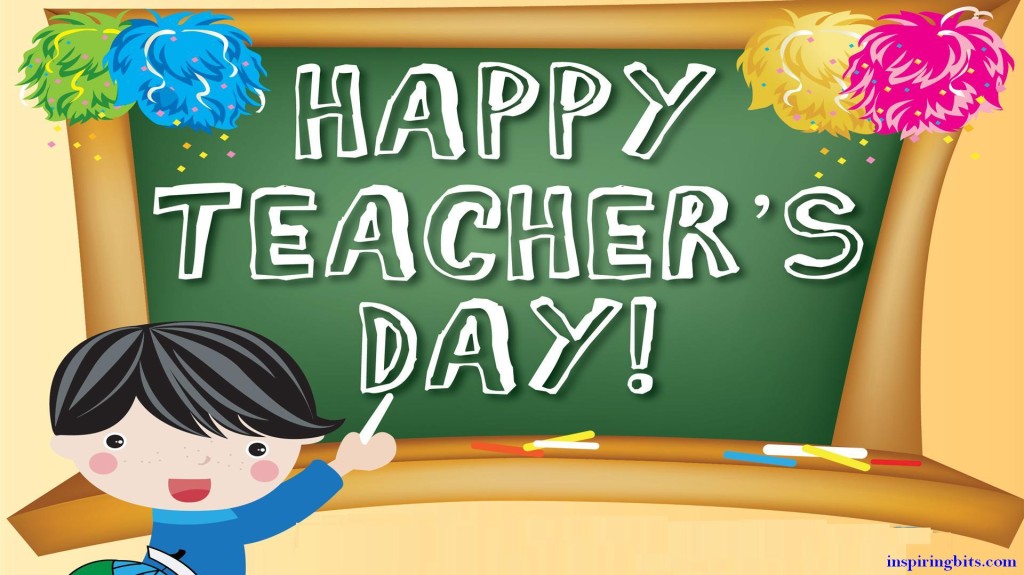 "The task of the modern educator is not to cut down jungles, but to irrigate deserts." – C. S. Lewis
"I have come to believe that a great teacher is a great artist and that there are as few as there are other great artists. Teaching might even be the greatest of the arts since the medium is the human mind and spirit." – John Steinbeck
"If I am walking with two other men, each of them will serve as my teacher. I will pick out the good points of the one imitate them, and the bad points of other and correct them in myself." – Confucius
"Teachers can change lives with just the right mix of chalk and challenges." – Joyce Meyer
"Every child should have a caring adult in their lives. And that's not always a biological parent or family member. It may be a friend or neighbor. Often times it is a teacher." – Joe Manchin 
Teachers Day Related Terms
teachers day quotes
teachers day speech
teachers day wishes
teachers day messages
teachers day essay
teachers day poems
teachers day songs
teachers day speech in hindi