Yet again HostGator anniversary sale is here and this time it's HostGator's 12th Anniversary. We all know that HostGator never fails an opportunity to give away some awesome discounts on its web hosting plans on some or the other occasion. And this time of its 12th Anniversary, HostGator is offering an exclusive 65% off on all of their new web hosting packages.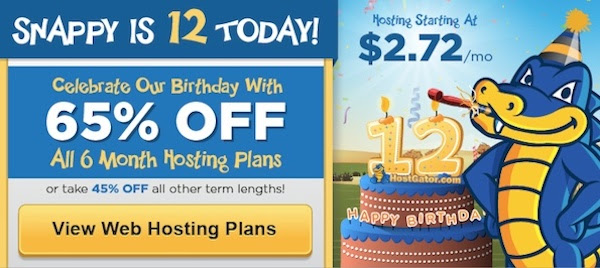 The exclusive 65% off offer will be available from Wednesday 22nd October starting from 12:00 AM CST and will be running for the next 24 hours. So get ready once again for the huge discounts from HostGator. Some of the trending offers on this day will be as follows:
45% off on all new hosting packages that have term length of one year or more
65% off on all new hosting packages 6 months or shorter
For people who do not know HostGator (simply not possible), it is one of the most acclaimed web hosting service providers in the industry and well known for their huge discounts, affordable hosting plans, undaunted service, and the best customer care support.
See HostGator Anniversary Sale Video

Sounds a bit like marketing? Not satisfied yet? Following are some of the reasons you may choose HostGator over any other hosting service provider.
How is HostGator better than others?
HostGator provides you wide range of hosting packages including shared hosting, dedicated hosting as well as Virtual Private Servers (VPS). Each of these hosting packages are well customized and suit every need of varied websites.
HostGator promises and provides unlimited disk space and bandwidth on shared hosting thus providing you unhindered service throughout your web existence.
Guaranteed uptime of 99.9%. This is one of the biggest positives of HostGator which no one else promises and meets. This guarantee is accompanied by 45-day money back policy which refunds you your money if you find HostGator unsuitable for your web requirements.
An easy to use cPanel and one click installation for WordPress are other important features which no one else provides you in the industry. This helps you get your website up and running within minutes.
Best in class technical support to solve your every website issue. HostGator is well known for their ace tech support that can be reached over email, phone and chat.
Hope the above points make you understand the efficiency of HostGator web hosting servers.
The HostGator Anniversary Sale is an awesome opportunity to buy your hosting plans at a much greater discount. So what are you waiting for? Buy your hosting server now at a 65% discounted price.