If the digital revolution has taught us anything, it's that convenience is a highly marketable commodity; and consumers are always looking for quicker and easier ways to handle their transactions. Whether online or in the high street, people want the shopping experience to be as effortless as possible. Enter the contactless payment app, which allows customers to pay for their purchases with the tap of a smartphone keypad. Mobile payment applications are already available from a number of firms, most notably Apple and Vodaphone, but a new player is soon to join the game. By the end of this year, Samsung Pay will hit the UK market, and it looks to give its competitors a run for their money.
What is Samsung Pay?
Samsung Pay is the latest in a
long line of mobile payment services
to reach the UK. Like other contactless payments apps, it allows consumers to make purchases by simply tapping their handsets against the business' card reader, with payments being authorized using a PIN number or via the smartphone's fingerprint scanner. Samsung Pay is already available in South Korea and the United States, and is scheduled to launch in the UK before the end of the year. Early reviews of the service are encouraging, and Samsung is hoping their mobile payment app will out-perform similar services being offered by Apple and Android.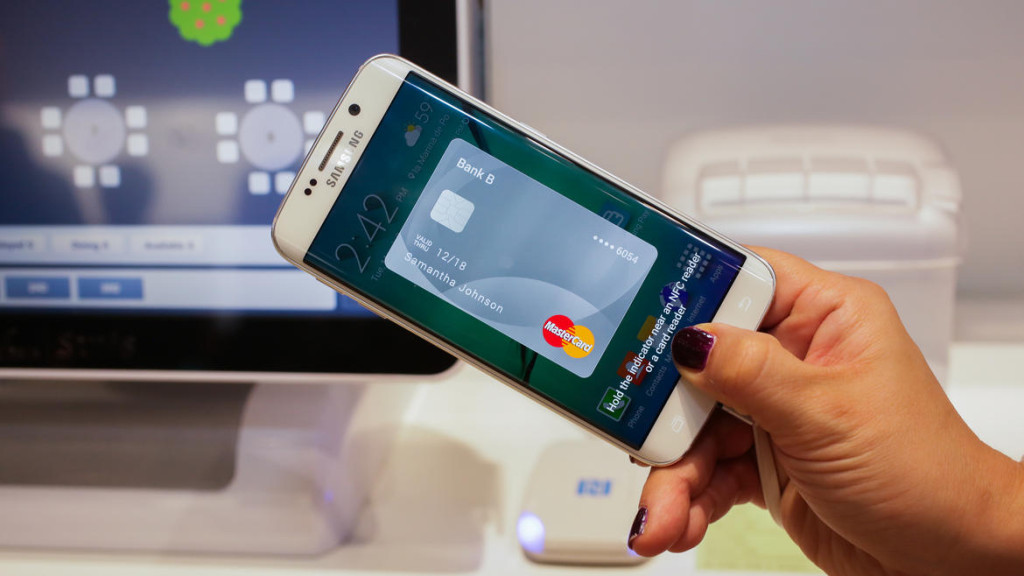 What Makes Samsung Pay Different?
The current crop of mobile payment services only works with machines that are equipped with a contactless card reader. This means that businesses that have yet to upgrade their point of sale systems are unable to process contactless payments for their customers. Samsung has effectively eliminated this obstacle by incorporating a proprietary technology called Magnetic Secure Transmission (MST) into their own mobile payment application. Essentially, an electronic signal is sent from the customer's handset to the retailer's magnetic stripe reader, tricking it into thinking that a physical card has been swiped. Consequently, retailers do not need to upgrade their hardware to accommodate customers using Samsung Pay, making the service even more convenient than its competition.
Getting the Banks on Board
Like all mobile payment services, Samsung must partner with banks and card issuers to provide a full service to their customers. Initially, it is expected that the major card issuers (MasterCard, Visa and American Express) will be on board when the service launches in the UK later this year. Barclay Card has it's own contactless payment app, bPay, so will naturally opt out of any partnership with Samsung on their mobile service.Banks have been slower to join the mobile pay bandwagon, and it may take some time before they get on board. This is not just an issue with Samsung Pay, as most major banks (Lloyd's, TSB, etc) have yet to partner with any of the popular mobile payment services. Even Apple Pay, arguably the most popular of the mobile payment services, has yet to secure a partnership with many of the country's largest banks. Still, as contactless payment apps become more popular with the public, the banking industry is sure to take note and begin partnering with the most successful service providers.
Spending Limits
Naturally, when Samsung Pay is launched later this year it will be subject to the same restrictions as its competitors. In most cases, payments will be limited to no more than £20 per transaction. Higher spending limits may be possible, depending on the retailer and the deal they have made with the service provider.
Compatible Smartphones
Samsung Pay will be only work on the latest Android models, including the Galaxy 5, the Galaxy S6 and the S6 Edge. As Samsung introduces new models to the market, it is expected that their mobile payment app will be a standard feature on all higher end handsets, though there is no indication that it will make its way to the more budget friendly models.
The Future of Retail?
Will mobile payment services replace cash in the high street? Only time will tell. But consumer analysts have boldly predicted that contactless payments
will replace cash
within 10 years. Certainly the trend towards mobile payment apps tends to support the idea, but it's too soon to tell if the British public will ever truly take to the idea of a cashless high street. But if it does, Samsung is banking on Samsung Pay as one of the mobile services of choice for those that choose to embrace the convenience of contactless payments.