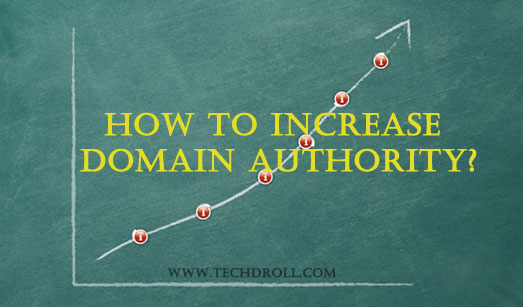 Gone are the days when the proficiency of a website was merely decided upon its Google Page Rank. Today, a lot of external changes have made the Google algorithms all the more efficient thus helping users with good websites.
These days, building an authority for your website is playing an important role along with age old techniques like keyword targeting, link building, on-page and off-page optimization, etc. So, what actually does the term 'Authority Building' means?
What Authority Building means?
The term authority building was introduced by a leading web analysis website Moz.com to predict the performance of a particular website in the search engine rankings. The term was further differentiated into two types – Domain Authority and Page Authority.
To determine the authority of a domain, Moz employs an analysis against Google's algorithm to understand how the search engine results are generated. Based on these results, Moz allocates domain authority on a 100 point logarithmic scale. More the score, higher would be the authority to your website.
Now that we have understood what actually authority building is, let take a look at the factors that help you increase domain authority of your website.
How to increase Domain Authority of a Website?
Moz gives you a particular domain authority based on around 40 different signals. Though the exact 40 constraints that decide the authority of your domain have never be shared by Moz, following are some of the tips that will definitely help you in increasing the domain authority of your website.
Build an Amazing Link Profile
The authenticity of any website depends upon the number of quality inbound links the site maintains. Thus, the basic and most efficient way to build a good domain authority is by building an amazing link profile.
However, when we say building a good number of inbound links, it doesn't mean to start creating number of irrelevant or spam links. When you are building a link profile for your website, ensure that you generate only relevant links from related website.
Other better way to build a good link profile that helps you in increasing domain authority of your website is by getting links from websites with high domain authority. The more backlinks you get from an authorized website, the more you increase the chances of getting a good domain authority for your website.
Studying Competitor Websites
The other efficient way to increase domain authority is by studying your competitor websites. Your competitors rank higher than you in the search engines just because they have got their hand on some most powerful inbound links. Try to study these websites and try to get equally strong backlinks as your competitors.
One of the best ways to study and check on your competitor's link profile is through Ahref – a exclusive website to analyze competitor links.
Guest Blogging
Guest blogging is one of the easiest ways to redirect a huge number of potential traffic from a well acclaimed website to your website. By writing good quality blog posts on some other websites from your niche helps you to introduce yourself as well as your website to this new audience.
By writing guest blogs you are not just reaching new audience but also redirecting them to your website. This further helps you increasing your set of audience as well as links from a high authority blog.
However, since guest blogging helps you in increasing your website's domain authority, it doesn't mean you write numerous low quality guest blogs and submit them on available article submission websites. If your motive behind writing a guest blog is to increase the authority of your domain then you must ensure that you document quality content and submit them on relevant websites with good domain authority.
Social Media Sharing
Social media sharing is another important constraint that will help you get a good domain authority. Sharing your content on the social media helps it reach a vast number of audiences. If your content is good and worthy, people do share it on their website blogs thus helping you with some additional backlinks. These backlinks then redirect additional traffic to your website thus continuing the cycle.
Though social media sharing does not directly help your website in increasing the domain authority, the elongated process behind it definitely helps you in reaching your goal.
Branding
Creating a brand for your website is another efficient way to help increase the domain authority of your website. However, what exactly does branding means? Have you heard of these names – Wikipedia, Forbes, Business Insider, Mashable, TechCrunch. If yes, what makes you remember their names? Is it their authentic content, reputed interviews, calculated statistics, or latest news?
Yes, constantly giving your readers something interesting to read helps you in building an exclusive customer base. Once you have created a brand for yourself, people talk about you on a daily basis. They share your stuff on the social networks as well as their own websites. And once a brand you automatically end up getting a good domain authority.
Building Relationships
Maintaining good relationships with other bloggers and site owners in the industry is other crucial thing one must ensure to increase the domain authority of your website. When you know and interact with your counterparts on a frequent basis, the probability of mentioning you or linking your content increases.
So how do you build good relationships? Building good relationships with bloggers from your industry is a both way process. You need to interact with them, share their content, appreciate the good work done by them, and ask for feedbacks for your content. This will not just help you in building good relationships but also help you to evolve in your work.
Domain authority of a website keeps on fluctuating and never remains the same. Hence, it's mandatory to keep on checking your websites authority on a frequent basis. Following the above mentioned points will further help you in increasing the domain authority of a website.
Do you know of any other constraints that help you in increasing your domain's authority? If yes, please do mention them in the comments below and help us make this article more informative.